31 Day "Holiday Domination" Challenge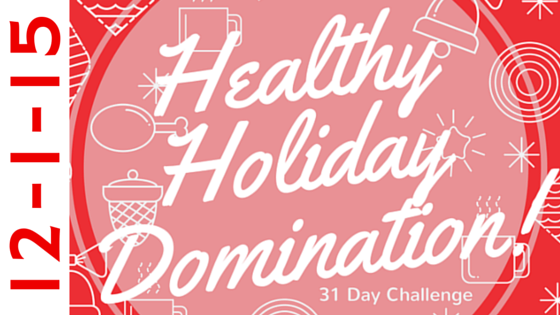 The holidays are such a fun time of year!
Parties, gift-giving, family traditions, Eggnog and Pumpkin Spice Latte's (Starbucks lovers understand), winter wonderlands and abounding sweet treats.
But when those sweet treats and holiday indulgences start working against us we end up putting on our own "winter coat" of unwanted pounds. 🙁

We find it hard to say "no" to Grandma's bundt cake, Uncle Albert's homemade fudge, and Mary's famous peanut brittle. There's a holiday party at every turn and who can turn down the yearly cookie exchange?!
How can you balance still having fun and engaging in all the holiday festivities, but not add to your waistline? Every year you've inevitably got to work harder and harder to reverse your new-found "padding" once New Year's Resolutions come around. :
But this year can be different.
It IS possible to participate in ALL of the merriment but NOT GAIN the unwanted pounds!
>> Introducing: Healthy Holiday Domination! A 31 Day Challenge. <<

You've now got the accountability, support and tools you will need to make sure the holiday indulgences don't get the best of you.
During the 31 days of December you'll be surrounded by other challengers who are not losing out on the holiday fun, but are encouraging and supporting one another to have more willpower and self control!
We'll also be learning healthy alternatives and domination strategies to keep the holidays fun and creative without moving the belt out another notch.
No more forcing yourself to make strenuous New Year's Resolutions (that let's face it, are VERY difficult to keep) and instead making resolutions for having more fun and checking off your 2016 bucket list.
NOT resolutions to lose the unwanted weight that dragged you down in December. It'll be a non-issue!
Starting December 1st, here's how the 31 days will shake down:
Personal daily inspirational and motivational messages

(via video, audio, email, text or a combo 😉 ) targeted to keep you in the right frame of mind to be in control of every situation and every day

Live weekly group calls

(4 total) for real-time strategies, support, Q&A and building personal connections and accountability with your fellow challengers

Weekly recorded audio

"inspiro-casts"

(aka inspiring-podcasts – 4 total) with tips, action items and surprise competitions and contests to keep you fully present and purposeful as you navigate the holiday festivities

Healthy Holiday Recipes

to shock your family and co-workers with how yummy and tasty healthy alternatives can really be!

Private Facebook "Holiday Domination" Community Forum

for all the daily support and accountability you can get your hands on – virtually guaranteeing your success of beating the holiday bulge!
>>Most of the magic happens in the forum as you join the other challengers in encouragement, strategy and support – whisking you through the December festivities without the typical weight gain.
PLUS Four Holiday Domination BONUSES!
Downloadable Guides –

The Healthy Meal Mix&Match Guide

– I've created this guide to give you over 300 combinations for healthy meals to make creating tasty and healthy meals a breeze. Along with the

Healthy Meal Companion Guide

for cooking and planning tips – I use this every day!

Daily Healthy Eating Affirmations Audio

– 10 healthy eating affirmations to listen and repeat every morning to make your subconscious work for you to make healthy eating easier and more automatic

How to Overcome Healthy Eating Self Sabotage Audio

– I walk you step-by-step through how to recognize ways you

sabotage your own results

, as well as a guided visualization exercise and actions you can take to prevent future sabotages. This audio is so powerful!
- AND I SAVED THE BEST FOR LAST -
A LIVE Interactive Healthy Holiday Cooking Night!
You'll join me LIVE via video streaming right from my kitchen to yours as we cook a healthy holiday meal together!
I'll provide the

shopping list

ahead of time, and we'll cook together as I will walk you step-by-step from prep to presentation!
By the end of the night we'll have our tastebuds dancing and crying for more with our

healthy holiday fare

to share with your family and friends – without the typical holiday calories. 😉

To me, this Bonus makes the whole challenge worth being a part of!

(And if it goes well, as I'm anticipating it will, we might just schedule a second night along the way!)
So are you ready to get started and be a part of the action?
There's no specific "diet" to follow or before and after pictures to take like in other health challenges.
Just encouragement, strategy, tools and accountability to help you have a healthier holiday season without packing on unwanted "holiday weight."

Ready to plan ahead and dominate December knowing you won't gain those Holiday pounds this year?
Ready to take control over the holidays instead of them steam-rolling you into a ball of chaotic, sugar-induced, present-wrapping mayhem??
Me too!
I'm excited for you to join me as we experience all the fun and joy of this special time of year, together.
Let's turn our focus toward the real reason we celebrate CHRISTmas, and take it off of the overwhelming hustle and bustle that adds to our waistline too easily – if we're not prepared.
You can do this. And so can I. This challenge will make sure of that. 😉
Join today. I've made it easy and affordable. Just $31 for 31 days. Only $1/day!
Click the button to get started, or click here to lock-in your spot..
But hurry! Doors close November 30th! To get the most of your 31 days, it's not fair to you to join even a day late and not be able to take full advantage of all of the benefits AND awesome bonuses available to you the second you join. So don't wait! We start promptly on December 1st!
The sooner you join, the more time you'll have to get ready and prepare for the official start date on December 1st. If you don't take the first step to committing to your own success, then you CAN'T COMPLAIN when your New Year's Resolutions have to focus around reversing the December damage, instead of being fun-filled exciting things to look forward to and enjoy!
Ensure your holiday success and dominate with a healthy December instead of it dominating you.
Your waistline (and scale) will thank you. 😉
Click here to join the 31 Day Challenge today! See you on the inside!
~Melody
Founder | Fit+Faith
FitPlusFaith.com
P.S. A few extra notes. Why am I charging? Why isn't it free? What I've found is that if you don't have any "skin in the game" (i.e. any financial commitment) it's so much easier to wriggle out of commitments. But in this case, not only have I set the investment at a no-brainer price point, if you look at it that you're pre-paying $1 a day for the 31 days of December as your commitment to yourself, you'll already be a step ahead in helping yourself to not go out of control as the tasty treats and holiday parties of December start stacking up.
P.P.S. I'm fully joining in for the 31 days not only to lead and inspire and help you navigate a more healthy holiday season, but for personal accountability for myself! I know that if I don't make a public declaration of my intentions, then no one can help me when I'm tempted to betray my own good intentions! So excited to join together for the holiday season to keep the pounds at bay, without sacrificing any of the fun!
Join me here for the Healthy Holiday Domination 31 Day Challenge
Doors close midnight on November 30th as we kick off on December 1st!!