This weekend I had an incredible lesson in following your dreams and the tuggings of your heart. The things that will never leave you no matter how much time goes by — because God put them there! Lessons in Faith!
Now this doesn't mean take it for granted and 'one day' do something about it. What it means is that if the calling isn't going away, instead of running in fear of it, follow your heart and take the NEXT STEP. That's all you're responsible for! God will do the rest and lead you on your step after that.
So in my case, the calling had always been to pursue something in the entertainment industry, either with singing or modeling, and two different times when I was younger I had been in contact with modeling agencies. But for various reasons it wasn't the right timing.
As I grew, I was always comfortable performing or being on stage, singing, dancing, speaking etc. Despite some nerves here and there, it always felt very natural and I was good at it!
Enter adulthood: Pursuing my education to the doctorate level, opening my own businesses and speaking locally. I even hosted my own Health&Hope women's 1-day event.
But the call to the bigger stage and greater influence has always been beneath it all.
Finally, a month or two ago, I could resist the urge no longer. I knew that I had to 'scratch the itch' or it would never be satisfied. I looked into Christian singing auditions and came upon a local audition in Pasadena (about 2 hours north of San Diego) for Actors, Models and Talent for Christ (AMTC). This was it!! This was my opportunity to at least follow that tug, no matter the outcome. I signed up to audition and the picture below was taken this past Saturday.
What was so interesting about the whole experience, was that the second I got past my 'jitters' and nervousness and pushed the CONFIRM button to secure my spot online, I was filled with instant peace. I literally had no nervousness or anxiety leading up to, or on the day of the event!!
I knew God was in control at this point, and I just had to be obedient. And because I was following what I felt was a call from Him, not driven by selfish desires or greed or pride, I felt completely at ease ever since.
So the day of the audition comes, and you can see I'm #537 that day, and auditioned in front of at least 500 people in my grouping, and I'm estimating there were at least 2000 people auditioning that day.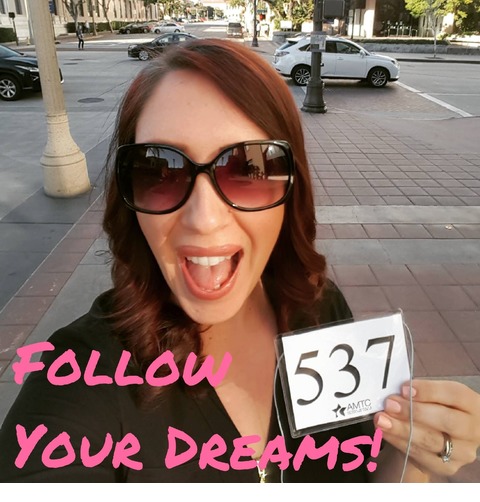 As it turns out, I was FIRST in my grouping of people to audition, and THEN the nerves set in that I had a hard time controlling. That being said, they had me read a part (which I wasn't prepared to do any 'acting') and then sing what I had prepared. By the time I went to sing, I couldn't control my nervous system and wasn't able to be as strong in my vocal control as I had practiced, so I wasn't proud of the performance. 'Oh well!' I thought., 'At least I did it and that's all that matters.'
I was told you would either receive a call-back the following day between 9am-3pm or a 'thanks but no thanks' email.
The day goes by and my husband and I enjoyed a beautiful day by the ocean with friends. I tried not to be anxious as I awaited the call or the email. Finally at around 1pm we decided to start driving home toward San Diego. I'm feeling at ease that I hadn't received a call because I knew it didn't go as well as I had wanted.
'No harm done. Maybe I was to do this just to encourage others to follow their dreams, regardless of the outcome. If that's the case, it was still worth it.'
Then at 2:18pm I got the call!! They welcomed me back to be in 3 different categories: acting, singing and modeling. I have until the end of February to make my decision if I want to move forward, but the moral of the story is, that if God is in it, it doesn't matter how you 'perform.' God's favor will be upon you beyond your understanding or comprehension.
I hope this encourages and inspires you. You will have the PEACE in your heart that you desire, when you finally say YES to God's call. Let Him be in control, as He is so much bigger and more capable to fulfill your dreams than you ever can be on your own. 🙂
Your sister in Christ,
~Dr. Melody
P.S. You're in luck! I've opened my schedule for 10 no-strings-attached, complimentary coaching sessions over then next 10 days—so claim your spot before they're gone!
Not sure why your weight loss efforts haven't been working, or what tweaks or changes could do the trick, or perhaps needing to get a hold of your deeper motivations to get some real results? I'm ready to help you with it all!
Book your spot today before they fill up. <3